Jan Ransom | Tuesday, October 9, 2018 -- 4:42 PM EDT
***Article first published by 'The Boston Globe' on June 29, 2015***
Police said Monday they had disrupted a significant drug operation, discovering as much as 35 pounds of heroin with an estimated street value of at least $2 million in a raid last week on a Lawrence apartment duplex.
Police said they also found a loaded Glock handgun tucked in a couch near a package of heroin. Elsewhere in the residence, authorities said, they discovered fentanyl, a chemical additive; cutting agents; mixers; sifters; a scale; two more handguns; and other tools for packaging drugs.
The Woodland Street apartment unit was "a mill operation where heroin and fentanyl were being mixed and bagged for sale" State Police Colonel Timothy Alben said at a news conference. "We're talking about an enormous distribution network that's probably beyond just Massachusetts and well across New England."
A man who police say was one of the major players in the operation, 37-year-old Jose C. Casellas of Lawrence, was arraigned in Lawrence District Court Friday on two counts of trafficking heroin over 200 grams, three counts of possessing a firearm without a license, and giving a false name at booking. He is due back in court July 22 for a probable cause hearing.
Casellas's arrest was one of several cases that stemmed from an armed home invasion in Manchester, N.H., last week in which Jeanette Hardy reported that she had been assaulted and robbed, according to Alben and court records. Police investigated and said they found nearly $200,000 and more than 1.5 kilograms of heroin in her home.
Hardy worked with police, according to court documents, leading investigators to Luis Nieves, 25 of Haverhill, and then to Casellas.
With the help of Hardy, Nieves, and a confidential informant, authorities learned that Casellas, who has used at least 13 aliases, lived on Haverhill Street in Lawrence with his wife and children and allegedly used the Woodland Street residence as his "stash" house, according to court records.
On Thursday, the informant placed an order for heroin. Moments later, authorities said, they observed Casellas leaving the Woodland Street house with a bag. He traveled to an apartment complex on Lowell Street in Andover, where police arrested him and found 3 kilograms of heroin, according to court records.
The arrest was part of an investigation involving multiple agencies, including State Police assigned to the attorney general's office, the US Drug Enforcement Administration, and the Lawrence, Andover, and Methuen police departments. Further arrests have not been ruled out in the case, State Police spokesman David Procopio said.
During Casellas's arraignment, it was revealed that he was convicted in Essex Superior Court in 2010 for trafficking over 28 grams of cocaine and possession with intent to distribute heroin; in 2009, he was convicted in Haverhill District Court for distribution of a Class A substance.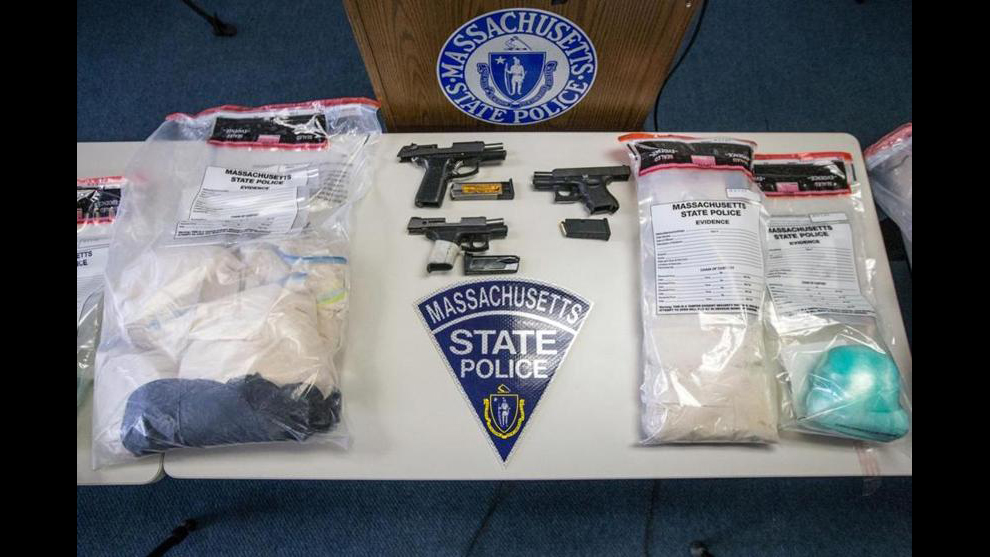 Casellas "was a significant trafficker putting dangerous drugs out into the streets and into the hands of those struggling with addiction," Attorney General Maura Healey said at the Monday conference.
Alben said Casellas had obliterated his fingerprints and had been deported twice. Officials were unable to provide details about the reported deportations, including where Casellas was deported — a police report says Casellas is from Puerto Rico, which is part of the United States.
Immigration and Customs Enforcement said Monday it was unable to provide immediate information. An official said Casellas has illegally reentered the United States after a previous removal or return at least once.
Alben said the Lawrence drug raid, and others like it, is just one facet of the fight against the state's opioid epidemic, which claimed the lives of 1,008 people in Massachusetts in 2014 — a 3.3 percent increase from the previous year and the highest recorded in the state, according to a state report released in April.
Within a three-day span beginning June 24, Alben said, police arrested a man and a woman in Haverhill who were allegedly found to be in possession of 24.5 grams of heroin; two men at a Newbury Street hotel in Danvers who allegedly had heroin and cocaine; and a New York man in Springfield who was charged with trafficking 180 grams of heroin.
"The problem is much bigger than any one case, and I think we've said we're not going to arrest our way out of the heroin and opiate problem," Alben said.
Healey said she plans to seek help from the Legislature to make trafficking fentanyl a crime. The drug, used to enhance the potency of heroin, has been blamed for the spike in overdoses and fatalities in the state.
"Right now in the Commonwealth of Massachusetts there is no criminal charge for trafficking fentanyl as there is for trafficking heroin and other controlled substances," Healy said. "We are seeing cases in which drug traffickers are adding fentanyl to heroin they sell or falsely selling fentanyl by representing it as heroin to buyers."
Alben said the drugs are typically mixed in hotel rooms and "in the dirtiest places you can possibly imagine." He said the best way to combat the state's opioid crisis is to continue to encourage loved ones to seek treatment.
He said that in December 2014, State Police responded to 114 suspected opiate overdoses compared with just 55 suspected overdoses so far this month. Still, Alben said, the decrease is not a cause for celebration.
"Fifty-five is still too many," he said. "It's still someone's daughter, son, mother, father that we're speaking about."
Related Content Groups(2):